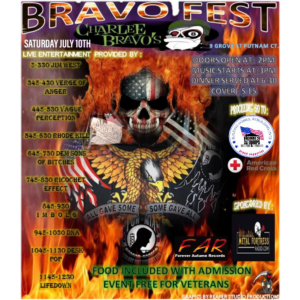 We are just starting to get back to performing shows. See the info for this event if you're in the area. If not click here to watch perform live this Thursday online 6:30 PM EST in support raising money for COVID relief through the American Red Cross.Tri County Give Back
On Saturday July 10th, Charlee Bravos in Putnam Connecticut and Metal Fortress Radio brings with you : "Bravofest". This is an annual event that is being held in order to raise money for the American Red Cross and Homes For Our Troops, a national nonprofit which builds and donates specially adapted custom homes nationwide for severely injured post-911 Veterans, to enable them to rebuild their lives.
This will be an all day event featuring live performances from several bands from the local area, as well as bands from Rhode Island and New York City. This event will also include Food with the cost of admission, but will be completely free for all Veterans.
The band's will be performing both covers and original music in the styles of Classic Rock, Acoustic, Metal and Punk. The full line up of bands is as follows : Jim west,Verge of anger,Vague perception,Road kill,Dem sob's, Ricochet effect,Imbolg,DNA,Desk pop,Head Rush and Lifedown
Admission for all non veterans is $15 Doors open at 2pm,the bands start at 3pm and Dinner is served at 6pm. Charlee Bravo's is located at 9 Grove Street in Putnam, CT. For more information please call 860-963-2097